SEIU's Most Promised Land Candidate: John Edwards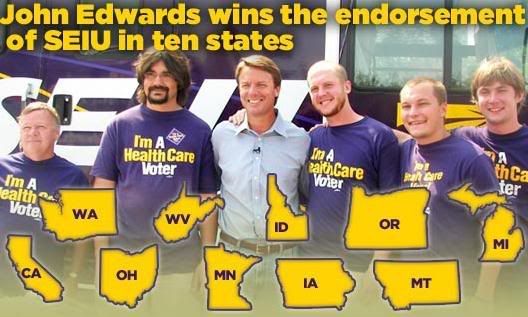 JRE got
ten
endorsements from 10 chapters of the SEIU in the past 2 days. Means a lot, but at least they (the leaders) recognize that he had walked in more picket lines for them, campaigned in 6 states to raise the minimum wage, and they knew him to be a Mill/Postal Worker's Son.
Let's count them: IA, CA, WA, WVA, OH, ID, MT, OR, MI, MN
John Deeth
liveblogged the Iowa endorsement. Here's the video of Bruce Springsteen's song "The Promised Land" , in which the music was played at the event. Springsteen is JRE's favorite artist.
Ten, count 'em 10 endorsements by the SEIU and more than half the membership across the country.
Great Monday for JRE and his supporters; hope it translates into knocking on doors and votes!
Want to see some Rural Dems talking about what needs to get done? Read
Mudcat Saunders
at the HuffPo.
Labels: benny's world, endorsements, John Edwards, Presidential Race 2008, seiu