Update: A Great Soldier, Stephanie Tubbs Jones, Passed Away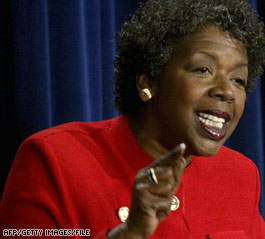 Rep. Stephanie Tubbs Jones of Ohio — a Democratic superdelegate and one of Hillary Clinton's most ardent supporters — is in critical condition at a Cleveland Hospital. She has been taken off life support and not expected to make it.
Update
: Congresswoman Tubbs-Jones passed away a hour ago. So sad.
Clinic spokeswoman Eileen Sheil says Tubbs Jones died at 6:12 p.m. Wednesday after suffering a brain hemorrhage caused by an aneurysm that burst and left her with limited brain function.
She suffered the hemorrhage while driving her car in her east side district Tuesday evening. Source:
AP via Yahoo!
A bit about her: The 58-year-old Tubbs-Jones was the first black woman to represent Ohio in Congress and a strong critic of the Iraq war. Her first term was in 1999.
Before becoming a member of Congress, Tubbs Jones was elected a judge of the Cleveland Municipal Court in 1981, and subsequently served on the Court of Common Pleas of Cuyahoga County from 1983 to 1991.
In 1990, she ran for Justice of the Supreme Court of Ohio replacing Mary Cacioppo, the winner of the Democratic Primary, who withdrew for health reasons. She narrowly lost that race to Republican incumbent J. Craig Wright.
She then served as the Cuyahoga County Prosecutor from 1991 until resigning in early 1999 to take her seat in Congress.
On December 19, 2006, Tubbs Jones was named Chairwoman of the House Committee on Standards of Official Conduct for the 110th Congress. She was also a member of the House Ways and Means Committee.
Tubbs-Jones didn't go gently into that good night last night. She fought as she could, just as she did in her life. I enjoyed her on C-SPAN each time she was on the show, and she was a beacon of hope who possessed a bit of pragmatism.
More l8tr about this great lady and member of Congress.
Labels: benny's world, deaths, Democrats, Stephanie Tubbs-Jones