RIP, Socks, the Former First Cat
According to
CNN
, Socks, the Clinton's First Feline, was put down this morning after a bout with cancer at Three Notch Veterinary Clinic in Hollywood, Maryland.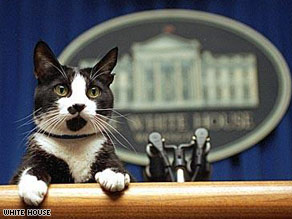 A stray, Socks was adopted by Chelsea Clinton when her father was governor of Arkansas. He was brought to the White House, but often spent time in the basement, and when the Clintons moved to Westchester County, he lived with Bettie Currie, the 42nd POTUS' secretary, as Bill Clinton was allergic to cats.

I know my Elmora thought highly of Socks, especially as it was designated as the First Cat. Elmora looks a lot like Socks.

I guess the Clintons weren't present when Socks went to Rainbow Bridge, but sounds like the Vets did an able job in doing what they could to make Socks comfortable in the twilight of his years.

Labels: benny's world, Bill Clinton, Rainbow Bridge, Socks