Lots to Engage Us too
On Monday, I received the following message from Elizabeth's office:
Dear Benny,
John and I have been working hard to share our vision for One America with people from across the country. With the launch of the One America Committee website yesterday, we can start working directly with you to realize that vision. Wherever we are, wherever you or your friends are, the One America Committee website will be our meeting place to discuss new ideas, share stories, and mobilize action for the One America we all dream of and know is possible.
www.oneamericacommittee.com
Over the years, John and I have witnessed the power of online activism. We have seen online discussions between people living in different states turn into an idea for a town hall forum that ends up catching the attention of a major newspaper and elected officials. That's why we packed the website with interactive tools that will bring people together from all walks of life, encourage dialogue, and generate ideas for taking action on what John and I believe is the most important moral issue of our time: ending poverty in America.
Through our One America blog, you can join lively discussions about the day's leading news stories. Your blog postings will be featured on our home page right next to entries from John and me. We want everyone who visits our website to hear your views. You can make your very first entry by joining the blog today,
http://oneamericacommittee.com/r/558/215462
.
If you've spent all day at the computer and just want to pick up the phone to share your comments or questions, you can call us on our audio blog and let us know your thoughts in a voice message.
For those of you with video cameras, you can send us a video blog.
The One America Committee website also has a Town Hall forum where you can discuss important issues like health care, raising the minimum wage, and building an economy that works for all Americans. We also started an online Book Club where you can join a chapter-by-chapter discussion of our latest featured book. We are very excited about our next book, Jimmy Carter's Our Endangered Values: America's Moral Crisis.
Since John is often on the road, we produced our own reality TV show called JRE-TV,
http://oneamericacommittee.com/r/559/215462
, that follows John across the country. With personal, behind-the-scenes footage, you can see what Americans are saying to John about the reality they face as they try and raise healthy children with a minimum wage paycheck.
www.oneamericacommittee.com
Through this website, we want to mobilize a powerful Internet community whose voice cannot be ignored. We hope these interactive resources will help you and your friends stay informed and mobilize our communities for a better future. The national poverty rate has increased each year for the last five years. The children of working parents deserve to live in a country where food, safe shelter, health care, and education are available to them so that they have a chance at the American dream. John and I will continue to take our message from state to state, coast to coast. We hope you will join us and keep in touch with us through the One America Committee website. We look forward to hearing from you.
Thank you for all of the great things that you do as a member of our online community.
Your friend,
Elizabeth
-------------------------
It was announced the same day that Senator Kennedy would be a guest blogger about the issue of raising the federal minimium wage. A month ago, JRE and the senator had a rally in DC about this issue. Anyway, we were asked to submit questions by Wednesday for the Senator to answer. Four were selected, and yours truly was one of them when his diary was launched on
Thursday
.
QUESTION
Senator Kennedy, you have been trying to get this legislation through for a long time. I'm wondering why some of your colleagues who were college graduates in the sixties, and probably at that time were supporters of the war on poverty, are not with you on this. I'm having problems understanding why they don't see why this is so important and how it could help the economy, not necessarily hurt business or nonprofits.

I used to live in MA, btw. Thanks for the being the lion who roars for those who can't.
by benny

Benny, you're right - it's unfortunate that many members of Congress don't see the minimum wage as a poverty issue. Raising the minimum wage is one of the best ways to help working families escape from the burden of poverty.

37 million people live in poverty in America today. That is unacceptable. Unfortunately, in recent decades, the number of full-time workers living in poverty has more than doubled. There are many issues we need to address to bring these disturbing numbers down, but raising the minimum wage is a needed step because it's an extremely effective way to eradicate poverty. Great Britain, which has the second largest economy in Europe, implemented a minimum wage in 1999 as part of a broad anti-poverty initiative. Since then, they've lifted 1.8 million British children out of poverty. They raised their minimum wage again to about $8.80 an hour last year, and they are planning another raise in October to $9.30. It's amazing to me
that Congress can't seem to make the same connection between poverty and the
minimum wage.

Amazing
--I lived in Massachuetts for 8 years and never met him. I realize his staffers wrote his answers, but the Netroots have changing the levels of engagement.
Check out my
diary
about Jack's Birthday on OAC blog. It was raised to
Recommended Diary
within 2 hours.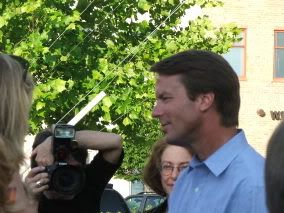 NCDem put up her
video
of the Habitat for Humanity event this morning. JRE was the featured speaker and we got to see another blogger get a hug and kiss. They asked him to say
hello
to the One America Blog.
Senator John R. Edwards will be on "This Week with George Stephanopoulos" this Sunday. Click
here
for your local listings.